2015 NACCS Scholars
Aida Hurtado and Miguel Carranza


Dr. Aída Hurtado is the Luis Leal Endowed Professor and faculty member in the department of Chicana and Chicano
Studies at the University of California, Santa Barbara. She is past chair of the National Association for Chicana and Chicano Studies, Past President of the American Psychology Association's Division 35 (Society for the Psychology of Women) Section III (Issues of Hispanic Women/Latinas), and Chair Elect of MALCS (Mujeres Activas en Letras y Cambio Social-Women Active in Letters and Social Change). Dr. Hurtado's research focuses on intersectional theory, educational achievement, and media representations of race and gender. Her books include Relating to Privilege: Three Blasphemies on Race and Feminism (University of Michigan, 1996), Voicing Chicana Feminisms: Young Women Speak Out on Sexuality and Identity (2003. New York: New York University Press, this book received an honorable mention for the Myers Outstanding Book Awards given by The Gustavus Myers Center for the Study of Bigotry and Human Rights in North America), Chicana/o Identity in a changing U.S. society. ¿Quién soy? ¿Quiénes somos? (2004, co-authored with Patricia Gurin, Tucson: The University of Arizona Press), co-editor (with Pedro Noguera and Edward Fergus) of the book Understanding the Disenfranchisement of Latino Men and Boys: Invisible No More (2012, Routledge), and co-author of Beyond Machismo: Chicana Intersectional Understandings of Young Latinos' Feminist Masculinities (In Press, University of Texas Press). Professor Hurtado is the recipient of the SAGE Award for Distinguished Contributions to Gender Equity in Education Research, granted by the American Educational Research Association (AERA), the Women of Color Psychologies Award granted by the Association of Women in Psychology, and the recipient of the 2014 Outstanding Latino/a Faculty in Higher Education: Research/Teaching in Higher Education (Research Institutions) Award granted by the American Association of Hispanics in Higher Education. Professor Hurtado has served as a consultant on educational and gender issues for the Ford Foundation, the Rockefeller Foundation, the Kellogg Foundation, the federal program GEAR UP, the University of California's Office of the President, among other local, state, and national organizations.
Dr. Miguel Carranza currently serves as the founding Director of the Latina/Latino Studies Program and Professor of Latina/Latino Studies and Sociology at the University of Missouri-Kansas City (UMKC). He began his present position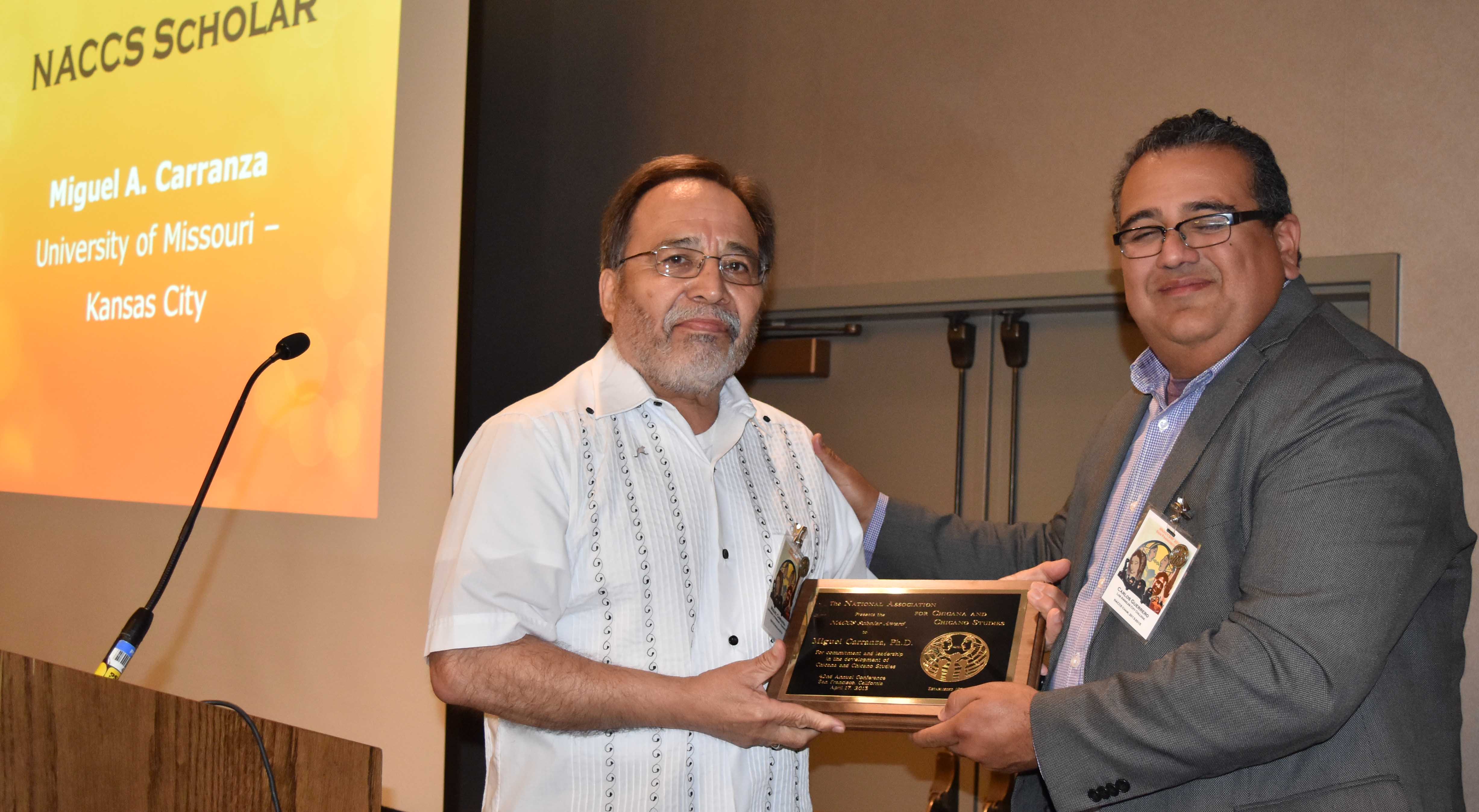 at UMKC in August 2011. Previously he held the position of Professor of Sociology and Ethnic Studies at the University of Nebraska-Lincoln holding a joint appointment with the Department of Sociology and the Institute for Ethnic Studies. He was Director of the Institute for Ethnic Studies and Director of Latino and Latin American Studies on several occasions. Dr. Carranza served four and one-half years as Associate Dean in the College of Arts & Sciences. In 1989-90 he was awarded an American Council on Education fellowship and studied higher education administration at Arizona State University.
Dr. Carranza received a B.A. in Education from Kearney State College (now the University of Nebraska at Kearney) and then attended the University of Notre Dame where he earned master's of arts and doctoral degrees in Sociology. At Notre Dame he studied under the direction of Dr. Julian Samora, his doctoral advisor and mentor, the first known Mexican American to be awarded a doctorate in Sociology in the U.S. in 1953. Dr. Carranza was Chair of the National Association for Chicano Studies (now the National Association for Chicana and Chicano Studies) from 1981-1983. From 1990-92 he was President of the National Association for Ethnic Studies (NAES) and in 1992 was presented the NAES Charles C. Irby Distinguished Service Award for outstanding contributions to the field of ethnic studies. In 2009, Dr. Carranza was appointed by the Secretaries of the Department of Health & Human Services and Department of Labor to the Children's Health Insurance Program (CHIP) National Working Group. He currently serves as a member of the Board of Directors of the EducationQuest Foundation, and the U.S. Commission on Civil Rights Missouri Advisory Committee.
His extensive research has centered on the fields of Chicano, Latino and Mexican-American Studies and Ethnic Studies, with a focus on Latino children, mentoring, Midwestern Chicano/Latino communities, immigration, and language attitudes. Dr. Carranza is co-editor of Health Disparities in Youth and Families - Research and Applications, 2011, Nebraska Symposium on Motivation Series, Volume 57. New York: Springer, and co-author of Ethnic Studies in the United States: A Guide to Research, published in 1996 by Garland Publishing.