Francisco Villegas, Ph.D.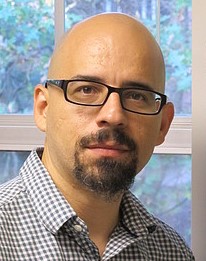 Assistant Professor
Department of Sociology
Kalamazoo College
Kalamazoo, MI
I have been on what I call my "North American" tour for the past few years. In reality, a series of dislocations that consisted of forced movement across national boundaries. I was born in Guadalajara, Mexico, raised in the Bay Area, and spent a decade in Toronto, Canada, where I completed my PhD in Sociology in Education at the University of Toronto. I returned to the U.S. as an Assistant Professor at Kalamazoo College in Michigan where I have spent the last four years. As a Chicana and Chicano Studies influenced professor, I serve students at "K" and specifically in the department of Anthropology and Sociology by creating communities engaging insight from Freire and Fanon to guide my work and introducing them to NACCS.
My first contact with NACCS was through the Northern California Foco in 2004 when I received the NCAL Scholarship while pursuing an MA in Mexican American Studies at SJSU. The Dr. Galarza/NCAL Foco Scholarship was important beyond the funding as an AB540 student. In those years we were prohibited from having driver's licenses, there was no California Dream Act, and no DACA, we were on our own to pursue our education. As an AB540 student it was difficult for me to travel to the yearly meetings because of the constant fear of apprehension and deportation.
I left the U.S. to pursue a Ph.D. in Toronto. There, I continued to be involved in NACCS virtually through the newsletters, webpage announcements and some contact with our other Canadian NACCS colleagues. I was fortunate to receive a NACCS immigrant student Beca in 2008. At that time, I was unable to travel to the U.S. because of the ten-year ban imposed on me for having lived in the U.S. as a "dreamer." But I never lost touch of the role NACCS plays in shaping the type of academic I am.
NACCS is important to me. Chicana and Chicano Studies provided me with the first glimpse of myself in schooling. Since returning to the U.S. as an Assistant Professor I have embraced the opportunity to take my students to experience what gave me the ability to make my current position possible. In 2017, I took seven of my students to the Irvine conference, the next year we drove two vans and thirteen students to the Minneapolis conference, and I was able to take eight to Albuquerque. Prior to Covid-19, we registered 7 students to attend the conference in Seattle. I have consistently been heartened by the generosity of senior scholars who took the time to converse with my students and to confirm why this is an organization I want them to experience.
For the past two years as an At-Large Representative I have put my experience to work collaboratively with the board to strengthen member relations. In this role I have worked with the Board to revise the bylaws of 2017 to ensure standing of NACCS as a non-profit. Because of COVID-19 we were asked to stay on the board for in additional year, so I have served as the Chair of the Cervantes Premio Committee for three years, acted as a co-editor for the Minneapolis Conference Proceedings, and reviewed proposals for three conferences. Most importantly, in my role as At-Large Rep I have connected my Focos and Caucuses to the rest of the organization by seeking input and speaking up on the board. This year, I seek a new role by putting my name as a candidate for Treasurer-Elect. I will continue to support NACCS and to do work that serves the organization, the members, and our future. I seek your support and I thank you for your vote.