Robert G. Unzueta II, Ph.D.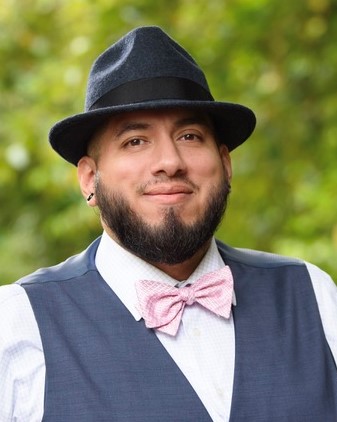 Assistant Professor
Educational Leadership & Teacher Education
Lewis & Clark Graduate School of Education and Counseling
Portland, OR
I have been actively involved in NACCS for just over a decade. NACCS is a space that I consider my academic home. My first involvement with NACCS was in 2010 as a Master's student when I took a road trip from San Jose, California to Seattle, Washington with six fellow students. We crammed into a minivan, and I shared a room with four of my peers. On that 14hr drive, I did not know what to expect attending my first academic conference. I was not a traditional student and struggled most of my academic career, from being kicked out of middle school, finishing HS with a less than a 2.0, and being put on academic probation on more than one occasion in my seven-year undergraduate journey. When we finally arrived in Seattle, I was nervous, but that uncertainty soon dissipated when I from diverse academic disciplines, and Chicana/o/x studies, were welcoming and nurtured a space for my growth and that of other students. Before this experience, I had never been in an academic space with so many people who experienced the academy in ways that resonated with my own life, much less saw world like I did. NACCS people shared many of my lived experiences, and through their scholarship, activism, and mentorship, were actively involved in political struggle for the rights, access, and creating space for the Chicana/o/x community.
Since that conference, I have been actively involved in NACCS. I started my engagement with the organization in the Northern California Foco and the Graduate Student Caucus. I attended regional meetings, regional conferences, volunteered to help register attendees, and served as a reviewer of proposals for the national conference. My work in the organization continued to grow when I was elected as an At-Large Representative, 2013-2014. I worked directly with the Student, Graduate Student, and K-12 Caucuses and served on the Immigrant Student Beca committee.
My academic career continued taking me to another region of the country where I embarked on my doctorate program in Salt Lake City, Utah. There I became actively involved in my new Foco which was the Rocky Mountain Foco. I helped organize the regional conference in 2015 and played an active role in bringing NACCS to Salt Lake City in 2014 after 27 years. I helped bring together various institutional partnerships, community organizations, and local leaders, activists, and scholars across the region to generate support and funds to support NACCS at Salt Lake City, UT.
I had another geographic movement, this time to the Pacific Northwest where I have lived and worked in Washington State and Portland, Oregon. As a professor, I have had the opportunity to mentor students and connect them to NACCS so they too could benefit from shared experiences and the space that NACCS creates in building the Chicana/o/x professoriate and to navigate higher education. I have seen my students find their intellectual voices and community, just at I did.
As an active NACCS member and serving on the board, I have supported students to present their scholarship at NACCS.
Presently, I am entering a new life cycle as an educator. So, I return to the NACCS leadership seeking a role on the board, this time as Secretary. There is a tremendous shift in our world in all facets but particularly in PK-20 education. I believe we are about to embark on an era of rebuilding as we inching toward post-pandemic realities. I share my experiences with NACCS in the hopes of getting your vote to continue to serve the organization that has provided me so much academic support, mentorship, and genuine friendship. I am run for Secretary of the NACCS Board to continue to support the vitality of the organization. I look forward to serving the organization in our shared struggles locally, regionally, nationally, and internationally as a collective community of scholars in the post-pandemic educational context. I want to be part of the leadership to give back and to be a role model for others. Thank you.
---
SECRETARY
Term: Two years
Duties:
Prepare and distribute minutes of all meetings of the board within 2 weeks of each meeting. Work with Chair and Executive Committee to prepare agendas for all meetings. Work with Associate Director to set up conference call meetings. Maintain the Meeting agendas and minutes, and the Calendar for the Board. Attend monthly Conference Call meetings, ten months during the year. Attend midyear meetings, serve on committees as designated, and attend and participate at Annual meeting. During annual meeting participate in board meetings. Participate in NACCS for Beginners and the Leadership Orientation, and participate in the general business meeting. During the annual meetings work with Chair and Executive Director as needed to develop on-site reports and minutes. Maintains all records of meetings and prepares annual report of minutes and communications for official reporting to meet incorporation requirements. Prepare the annual Statement of Information to be submitted to the Secretary of State (California) identifying the officers of the organization. Prepare the annual Compliance of Minutes to be filed with the state of California. With executive committee [Chair, Chair-Elect, Past-Chair, Treasurer, Executive Director and Associate Director] discusses actions to move on board pertinent to the communication and reporting of policies, fiscal well being, maintenance and standing of non-profit standing, etc.
Maintain copies of all official documents of the organization. Maintain copies of all official annual reports and documents of the organization. Must be knowledgeable of NACCS bylaws and procedures.